If you're a serious home buyer, it makes sense to continue your search through the holiday season. Open houses are less crowded. REALTORS® have more time and mortgage companies are a bit more flexible. If you're considering buying one of our Elkhart homes for sale, you'll find an attractive assortment of homes and you can mix your home-shopping with local holiday fun.  
The holidays are also a great time to get to know Elkhart residents and community traditions. There are plenty of local holiday events. But if you have time for only one, visit Wellfield Botanic Gardens Winter Wonderland Holiday Lights 2017 presented by Welch Packaging. It's a "must-see" local Elkhart holiday event. 
Our REALTORS® live and work in Elkhart. Like many residents, we enjoy the Wellfield Botanical Gardens year round. It's a wonderful place to experience nature at its most beautiful. The gardens are even more special during the holidays when beautiful lights and music transform them into a true winter wonderland.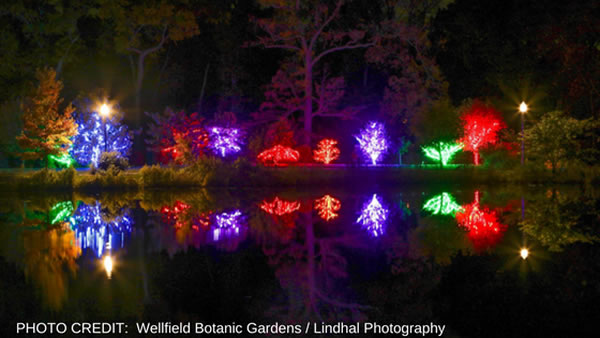 Wellfield Botanic Gardens Winter Wonderland Holiday Lights 2017
If your holiday season is already hectic with list-making, gift-shopping, and family events, Wellfield Botanic Gardens is the perfect place to wind down. On Thursday, Friday, and Saturday evenings from 5:00 to 8:00 pm, Elkhart's Wellfield Botanic Gardens comes alive with holiday lights and sounds.

Professional displays light up the Promenade Pathway and highlight the gardens. The illumination transforms the grounds into a magical holiday experience your entire family will enjoy.
Enjoy the Gardens
The Wellfield site holds 20 beautifully planned gardens. Each garden was designed and built around a theme brought to life with bridges, waterfalls, pavers, and seasonal flowers. Depending on your mood, you may choose to visit the Annual Garden, Conversation Garden, Waterfall Garden, Sensory Garden or one of the other unique green spaces. 
As winter approaches, the gardens have already gone through their autumn transitions. Spring and summer colors have faded. Some plants lie dormant waiting for warmer days. The remaining trees, shrubs, and greenery form a perfect backdrop for holiday lights. Whatever their theme, the lights turn each garden into a wintertime fantasy.
Finish Your Holiday Shopping
At the Visitor's Cottage, you can register for events and learn more about the gardens. You can also visit the Wellfield Botanic Garden Gift Shop to pick up a few last minute gifts. The shop stocks a unique selection of artisan-crafted gifts, plants, and garden accessories. You may also select bath and body products created with Wellfield-grown botanicals.
Stay Warm
The wind is nippy this time of year. Wellfield helps keep you warm with fire pits along the garden trails and free hot chocolate.
Get to Know Elkhart
If you want to know more about Elkhart, Indiana, we can help. Contact Cressy & Everett Real Estate for professional assistance in buying or selling your home or if you want to know more about our local communities.