Nestled on the peaceful shoreline of Lake Michigan, Benton Harbor, Michigan is arguably best known as a quiet summertime getaway on the great lakes. But there is plenty to see and do here during any season, as our team of Cressy & Everett real estate agents will tell you. Wintertime is no exception, and a great event is right around the corner – 12C Jazz and Wine at 12 Corners Vineyards.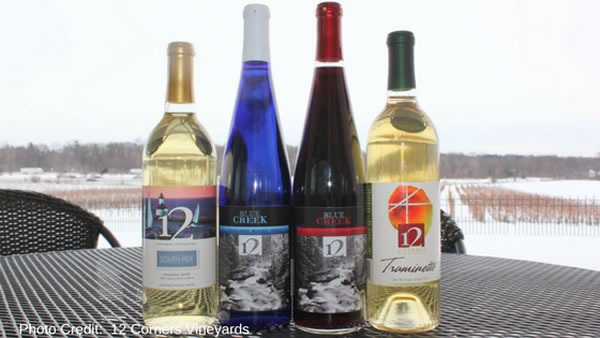 12 Corners Vineyards
Our little section of the Lake Michigan shore sometimes referred to as the Gold Coast, offers a unique micro-climate, with a "lake effect" that shields local crops from the harsh winter cold. It's an effect that growers in the area have been taking advantage of for over a hundred years, and which has made our area one of the Midwest's premier wine regions.
One of our favorite local wineries is 12 Corners Vineyards. Started by a group of friends on a lush 115-acre estate just a few miles from the lakeshore, 12 Corners Vineyards has gained a reputation for producing some of the region's best wines. The vineyards offer an opportunity year-round to sample local Chardonnay, Cabernet Franc, Merlot, Riesling, and Traminette, among many others. This February, 12C Jazz and Wine offers just such an opportunity.
12C Jazz and Wine
On Saturday, February 17 – Valentine's Day Weekend – pay a visit to 12 Corners Vineyards for an afternoon of fine wine and cool jazz. 12C Jazz and Wine brings local saxophonist Erick Fisher to the vineyards for what promises to be a thoroughly enjoyable performance. A native of Benton Harbor, Fisher has been perfecting his craft for over 20 years, performing at venues, festivals, churches, and concerts throughout the region.
Erick Fisher's unique blend of Gospel, Jazz and R&B pairs perfectly with 12 Corners Vineyards' wide assortment of excellent local wines, and this event offers an opportunity to sample both. 12C Wine and Jazz runs from 2 PM to 5 PM on Saturday, February 17. Head to 12 Corners Vineyards at 1201 N. Benton Center Road, just 10 minutes from Downtown Benton Harbor.
Lots to Explore in Benton Harbor
12C Jazz and Wine is just one of the fun events coming up at 12 Corners Vineyards. Be sure to check their online calendar for events, classes and live music throughout the year! While you're at it, sample the flavors at some of the many other local wineries and breweries that have sprung up around Benton Harbor, like Vineyard 2121 and North Pier Brewing Company.
Contact Cressy & Everett Real Estate today to learn more about life in Benton Harbor, MI. We are committed to not only offering the best homes in Benton Harbor but also helping all our friends enjoy life in Benton Harbor to the fullest.