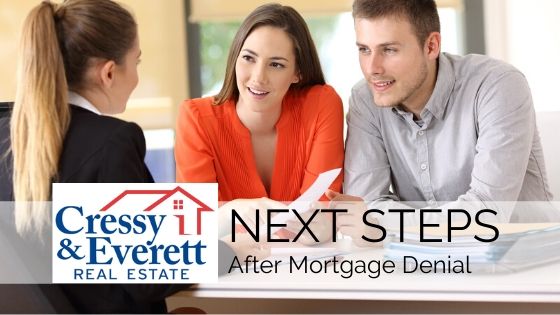 Buying a new home is exciting! You've checked out available South Bend homes for sale, figured out your down payment, and have a mortgage pre-approval letter from a lender. You finally found the perfect home and it's time to get a mortgage. You apply, get excited, start packing and then you hear the two most dreaded words in the home buying process: "Mortgage Denied."
It happens. If you've been rejected for a loan, it can be jarring, but you can turn it around. The key is understanding the reason(s) why you were turned down, and how to fix any problems.
Reasons You Might Be Denied a Mortgage
Since 2008, banks have tightened mortgage lending requirements. It's not always as simple as being overextended on your current loans or having several accounts in collections. Often it can be small things, that can be resolved. 
Here are some common reasons you could get denied for a mortgage loan.
• You just received a new credit card or applied for a personal loan.
Taking on any new debt before you apply for a mortgage can decrease the chances of getting approved. Mortgage lenders look at an indicator called your "debt-to-income ratio." DTI is calculated by adding up your monthly payments and dividing by your monthly gross income. They want to see a ratio of 43% or less.
• You've recently changed jobs.
Lenders look for stability and one way they determine it is by looking at your employment history. If you've worked for the same employer for two years or more, it can help your application. If you've recently lost or changed jobs, it can raise a red flag with lenders.
• Low Appraisal
If the property you're interested in appraises for significantly less than the purchase price it can cause the "loan-to-value ratio" (LTV) to be higher than the lender can legally approve. Work to renegotiate a lower price if the appraisal is higher than similar homes in the neighborhood. Or if you can, make a larger down payment and accept a lower loan amount.
• Bad Credit
If you have bad credit (typically below 619) you can be denied for a mortgage. If you're denied a loan, you can get a free credit report within 60 days of a denial. Go through your report to see if it is up-to-date and accurate. If there are discrepancies, the credit bureau must correct any errors.
What to Do If You've Been Denied A Loan
If you are denied, there are some steps you can take.
Find out why you were turned down.
If you've been denied a mortgage, the lender must tell you why. Ask for their advice on what you can do to ensure it doesn't happen again.


Pull your credit report and search for errors.
Your credit score plays a major role in the type of loan and rate you're eligible for. If your DTI is too high, pay down your debt. Once you've paid it down reapply. If the LTV is too high and you can afford it, put more money down to lower the loan amount, you'll also lower your monthly payment.


Shop around.
There are many different loans out there and some lenders might be more flexible. Fill out applications with two or three lenders to increase your chances.
Your realtor may be able to help you find a lender willing to work with you. Here at Cressy & Everett Real Estate, our real estate agents are ready to help. If you're ready to begin your home search, contact us today!