About Nappanee and the Amish Acres Historic Farm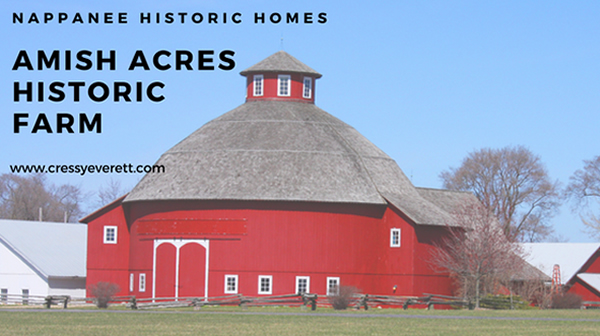 Nappanee, Indiana has a rich, fascinating history and you'll find no better example of that history than Amish Acres Historic Farm. As you tour Amish Acres, you will be swept away to a different era, when day-to-day life in the community was centered on the farm, and around the family dinner table. It's like walking through a living museum, and a day at Amish Acres involves plenty more than seeing the sights. You'll also find great food, unique shopping opportunities, educational activities, and even a theater that is sure to delight every member of the audience.
The Only Amish Farm Listed in the National Register of Historic Places
If you enjoy exploring historic places, then you may have already encountered the National Register of Historic Places on your travels. Locations that make the list need to have serious historic value, and Amish Acres is the only Amish farm listed on the National Register of Historic Places. The farm has been in operation since the middle of the 1800's, and many of the original buildings are still in great shape today. The historic farmstead is the major attraction, but you'll also find plenty of surprises as you tour the 80-acre property.
When You're in the Mood for Comfort Food or a Fine Glass of Wine
There is a seat at the dinner table for everyone at Amish Acres, and enjoying the flavor of a Threshers Dinner will give you a taste of Amish culinary roots. Threshers is a family-style dining spot that serves all of your home-cooked favorites, and since this is Amish Acres of course it has a story of its own. The threshers go to work at harvest time to collect the fruits of the season's labor, and the restaurant at Amish Acres is named for this centuries-old tradition. If you're feeling a little thirsty before or after dinner, there are wine tastings on-site as well.
Spinning a Yarn at the Round Barn
The Round Barn Theatre at Amish Acres is one of the highlights of any visit to the farm, and you never know which show you might see on stage. The theater troupe at Amish Acres focuses on classic Broadway musicals, with a year-round schedule of fresh shows. There are special camps held at the theater during the summer, along with shows produced especially for the younger members of the family.
A Tourist Attraction for the Nappanee Community
For anyone shopping for homes in Nappanee, Indiana, Amish Acres provides more than just a fun place to visit. It's also a major tourist attraction, drawing visitors from throughout Indiana and points far beyond. All of those visitors are great for the local economy, and there will always be new faces to meet when you live near Amish Acres.
Special Events at Amish Acres
Visiting Amish Acres at any time is sure to result in a fun day, but there are also some specific dates that you will want to circle on your calendar each year. The Amish Acres Arts and Crafts Festival is one of the biggest events every year, spanning three days during the heart of the summer. The festival features arts, crafts, farm wagon rides, fantastic food, and four stages with constant live performances. Just one more good excuse to visit your favorite Amish farm.
Our Cressy and Everett REALTORS® are here to help you find the perfect home near all of the fun at Amish Acres. Contact Cressy and Everett Real Estate to buy and sell homes in Nappanee, Indiana and all of our other great local communities.